Home
/
Money Blog
Evaluating a refinance offer
Note: You can use any financial calculator to do this problem, but if you want the BEST, you can get our
10bii Financial Calculator
for iOS, Android, Mac, and Windows!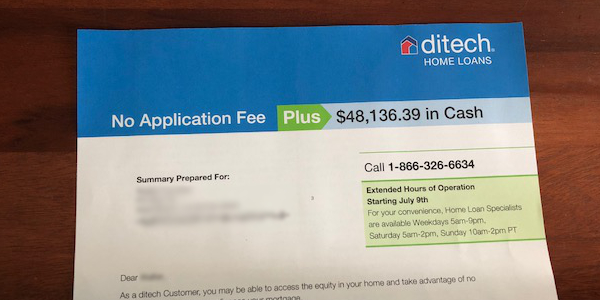 ---
THE SCENARIO
I recently got a letter from Ditech Home Loans, offering to refinance a property for me. My initial assumption is that it would be the condo in which I live, but they never state that and the numbers in the letter don't match my primary residence
at all
. There's plenty of boilerplate in the letter which makes me think that if I were to contact them to take them up on the offer, they'd reject me (after sending
me
the letter), but since they don't state the borrowing rate on the mailer, I figured it'd be good to discover what it is. My intuition says that when a lender isn't up-front with their rates, those rates are probably pretty bad… but who knows, maybe I'll be pleasantly surprised.
The question:
They're offering a 30-year fully amortizing loan in the amount of $92,338.00 (with a loan-to-value ratio of 76.31%*). The monthly payment would be $495.70. So what's the interest rate of this loan? * If 76.31% of the value is $92,338.00, then the full value must be $92,338 / 76.31% = $121,003.80, which narrows down which property they might be talking about, since they didn't state it in their letter.
---
THE SOLUTION
This one is pretty straightforward. First things first, make sure the calculator is using 12 Payments per Year. N: 360 (It's a 30-year loan) I/YR: (This is what I'm trying to find) PV: $92,338 (They're seeking to lend me $92,338.00) PMT: -495.70 (The monthly payment on the loan would be $495.70) FV: 0 (It's a fully amortizing loan)
Though they didn't state it, I can surmise that the interest rate of the loan is 5.00%.
The offer is definitely for a primary residence (it states as much in the fine print of the letter), and the valuation of the property I figured out above definitely tells me that this offer is for a property that I don't live in. Still, if they're lending money to owner-occupants at 5%, maybe they'll lend on an investment property at a higher (but still manageable) rate. It might be worth giving them a call to find out.
What do you think? Do you think you could get a good refinance offer through unsolicited mail? Or do you figure they're all scams? Let us know in the comments!